Franny, Ro and Curly
Did you hear Rosie and Fran are
getting a sitcom
? No, Rosie Perez and Fran Lebowitz aren't updating "Chico and the Man". It'll be Rosie O'Donnell and Fran Drescher bringing VH1's idea of casting loud mouthed, past-their-primers to the world of scripted television. All that's known about the show is that it centers on three best friends, which begs the question "who will be cast as the third best friend?"
Deaf, Dumb & Blinds
Betty White plays an elderly woman who is slowly loosing her hearing. Instead of resigning herself to fate she decides to take a job in a store specializing in window treatments owned by Fran and Rosie. After her first day at work with the two she soon can't hurry her inevitable deafness along fast enough. [According to recent polling Betty White is currently the the answer of 71% of Americans to the answer "who is the old person you'd most like to carry around in your pocket?" She also still has her
comedy chops
.]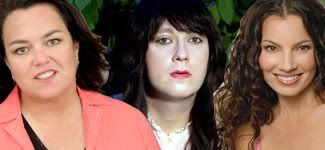 Leave It To Non-Gender Specific Euphemism For Genitalia
or
Two and a Half Half-Men
Rosie is a ftm transexual who is married to mtf transexual Fran. Before transitioning they gave birth to a child played by singer Antony Hegarty. Adorable lil' Tony gets into all sorts of cute hijinks while exploring the boundaries of gender, but Dod and Mam are always there to guide zer. Lou Reed guest stars as Uncle Jerry.
There Is No Justice
Patricia Heaton joins Fran and Rosie to form an all-female law firm, except ruh-oh! they don't see eye to eye on anything! The only thing liberal Ro and conservative Patty can agree on is that Fran needs to shut the fuck up and never laugh again.
Hell
This is Hell. Perez Hilton joins Fran and Rosie in Hell, and we're all doomed to it. Don't worry this show will only get green lit if John McCain gets elected President.